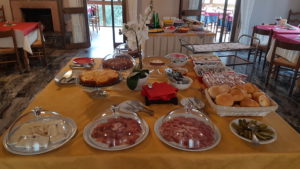 The Bellavista Meublé Hotel in Monte Isola is property of the Archini family and is located in Siviano, medieval administrative town of Monte Isola, 150 metres above the lake.
The Hotel provides a homely service, offering its guests cordiality and a hospitable welcome. Its faithful clientele and the staff's professionalism guarantee an unforgettable holiday in Monte Isola.
The Hotel has 7 bedrooms with private bathroom and some of them offer a lake view; guests may also use the solarium and the terrace enjoying a panoramic view of the village of Siviano, of the beaches below the hotel, seeing the Holy Virgin sanctuary, the castle and the lake.
Bellavista Meublé Hotel offers overnight stay and beakfast, the bar service is available for our guests as well as the taxi service with private driver, for guided tours on the island and the land or to join the ports connecting Monte Isola to the land.
The taxi service, to and from the hotel is free of charge for arrival and departure. Bellavista Hotel has some special agreement with some high quality restaurants in Monte Isola where you may taste typical dishes and food, our salami, oil, sardines, the lake fish of the day, caught by the fishers of Iseo Lake, some meat dishes, livestock breaded by the farmers of Monte Isola and several products of our beautiful land.
The equipped terrace, on the first floor, offers a comfortable space to relax and read. On the ground fllor, a beautiful blooming garden allow a nice breakfast time, lecture and relax.
We are equipping a small barbecue area, where our guests may enjoy cooking local food.
Bicycles are available for our guests and the hotel cooperates with the rental Noleggio biciclette Guizzetti in Peschiera Maraglio in front of the farmacy.
Our family and all our staff love animals, but for hygienic and sanitary reasons, in our Hotel pets are not allowed.